Everyone knows Ugadi as a famous festival but many of us don't know why we are celebrating UGADI. According to our rituals, UGADI was also called as "YUGADI." This Yugadi name was derived from the Sanskrit language which consists of two words namely "YUG" which means "AGE" and "ADI" which means "BEGINNING." So literally, we can say that UGADI is "Beginning of New Age."
Ugadi in Our Country
Ugadi is the most prominent festival in Andhra Pradesh, Telangana, Karnataka, Tamil Nadu, Goa, Kerala and Maharashtra states in India. People in these states call Ugadi festival as New Year's Day which is a most special day for Hindus. This is the well-known and historic festival in our country
Make Your Ugadi more special and traditional with these ways:
Celebrate Fullest with Your Loving Family
Everyone wants to celebrate the festival with their family members to spread the joy and happiness. On Ugadi, if you are far away from your family then travel to your place at best discounts by using offers available at online travel portals like Redbus, Cleartrip, Railyatri and more.
Enjoy Special Concoction "Ugadi Pachchadi"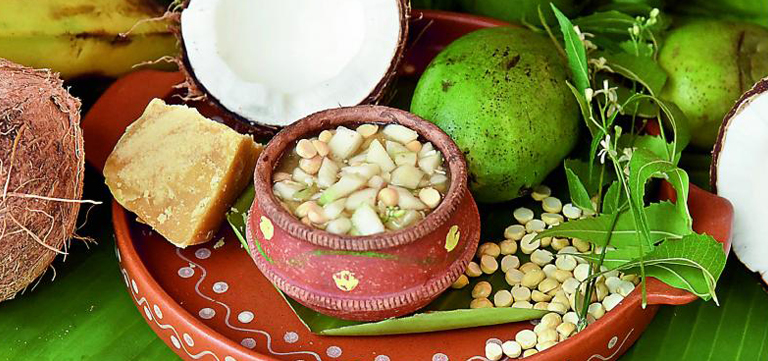 As a part of celebrations on Ugadi, people prepare "Ugadi Pachadi" which is a combination of various ingredients like raw mango, tamarind, jaggery, neem, salt and chilly. These six different ingredients represent the six varied flavors of life like sadness, happiness, anger, surprise, bitterness and fear. People especially prefer to take this pachchadi on Ugadi festival. You can simply prepare this at home without stepping out as you can order all required ingredients at online grocery store Bigbasket.
Represent Your Culture & Identity with Traditional Clothes
Dressing varies based on occasions, events and festivals. Make this Ugadi the most traditional and happening by wearing ethnic wear like chudidars, sarees, Kurtas and so on. Shop for your traditional wear on various online shopping stores like Ajio, Nnnow, Voonik and so on.
Look More Special with Designer Jewellery
Traditionally, gold jewellery is very popular while festive times. Celebrate this auspicious occasion by wearing gold ornaments which suit best to you. Complete your traditional look for Ugadi with the adorable jewellery by ordering at online shopping sites like Candere, Voylla and so on.
Exclaim Your Family Members with Gifts
Being away from your loved ones may mean that you are missing out on all these festivities in India. You can rid out that missing feeling by sending Ugadi gifts on this day to make your family members and friends happy. Order gifts at best discounts on famous gift portals like Indian Gift Portal, Ferns N Petals and from more.
Greet Everyone with Smile
Wishing others will create a friendly atmosphere and spread a word of love so let's wish people with the smile and make people happy at this festival time. Step ahead and wish your friends and family members with a personal touch.
Welcome Auspiciousness with Rangoli
Making rangoli on the various occasions is the best part of any celebration. Rangoli is believed to have spiritual perspective and benefits and it chages according to the color, design and form. So, make this Ugadi more spiritual and traditional with Rangoli and make a grand welcome to this new year.
Ugadi is a festival with many shades. It marks the beginning and fills the life of everyone with joy and happiness. So, let's make your Ugadi too special with all these seven things and start this new year with a grand welcome!!