Speak the "Fragrance Language" with PerfumeBooth
While people generally focus on their clothes and other fashion accessories when they step out of their house, they often forget one important thing- a thing that can put the right finishing touch to their personality- a good perfume! Fortunately, with PerfumeBooth now you can rest assured that now you don't just look good but also smell good everywhere you go.
PerfumeBooth works on a unique concept with the help of which the customers first get to try the best of international fragrances before they buy them. This unique concept has allowed the store to eliminate the hassles and expenses of distributing and marketing the products. As a result, the best of international fragrances are now available at the PerfumeBooth at highly affordable prices. Combine this with additional discounts and offers and you now have an online perfume store that you can always rely upon.
About PerfumeBooth
PerfumeBooth is a brainchild of Rohit Agrawal, Sunil Dutt, and Richa Agarwal. With years of experience in different industrial domains, the founders were highly intrigued by the fragrance market in India. They found that most of the market share in India with respect to fragrance is dominated by deodorants as they are seen as an affordable option as compared to perfumes which are considered expensive.
With PerfumeBooth, the founders created a unique concept with the help of which they now sell the best of international fragrances at highly affordable prices. The store now sells an extensive range of premium quality fragrances from all over the world to help Indian men and women smell good and put their best foot forward wherever they go.
Perfume Box with 7 International Perfumes
PerfumeBooth offers Perfume Booth Selfie box which contains a total of 7 International brand fragrances. These are sample-sized perfume bottles which the customers can try before making an actual purchase. A common problem when buying perfume online is the fact that people do not actually get to smell the perfume before buying. They simply need to rely on the information provided on the product page or reviews to make a decision.
But with this unique concept by PerfumeBooth, one can now try the best of international fragrances before actually making a purchase. And not just this, the perfume box come with a free perfume selfie case as well as a gift voucher worth Rs. 501. What else could one ask for?
International Fragrances at Affordable Prices
Perfumes from international brands can be very expensive in India. As a result, the market is now filled with cheaper alternatives and counterfeit products. PerfumeBooth with its unique concept allows customers to buy original perfumes from international brands like Creation, Louis Cardin, Dolby, Chris Adams, and many others at affordable prices. Moreover, with the help of the perfume box customers can first try the perfumes before buying. This ensures that you get to buy a perfume which you like and which perfectly suits your personality.
Perfumes for Men and Women
The perfume boxes at the PerfumeBooth are available for men and women. While the boxes for women are Lurve, Sophistique, and Teaze, the ones for men are known as Wyld, Mazculine, and Cazanova. Each of these boxes contains 7 different fragrances along with a perfume selfie case and a gift voucher. The selfie case can be used to carry any one of the 7 fragrances with utmost convenience whereas the gift voucher worth Rs 501 can be redeemed when buying a perfume at the store.
Get International Fragrances Delivered to Your Home
You can browse through the perfume boxes and fragrances available at PerfumeBooth.com and easily order the one you like. To order, simply enter your delivery address and the selected product will be delivered to the address as soon as possible. The Perfume Booth online store offers multiple payment options like online delivery, debit cards, credit cards and cash-on-delivery. Perfume Booth track order option is available at Perfume Booth. Once your order is dispatched, you will receive an SMS with the name of the courier company and the ABW number. You may track your order from the company website. In case of any queries, you can get in touch with the support department by ringing at +91-11-40098888 or sending an email at [email protected].
PerfumeBooth Latest Coupons and Promo Codes
While PerfumeBooth is already very popular for its affordable pricing, the store also offers additional discounts, promo codes and other offers to make sure that you get to smell your best without spending a lot of money. All the latest fragrance coupon codes and discounts can be found at the PerfumeBooth website. The store regularly offers amazing deals on the products allowing you to get your hands on the best of international fragrances in a hassle-free manner. Alternatively, you can visit CouponZeta to find all the latest PerfumeBooth codes and discounts. You can also checkout DeoBazaar & Yardley for Perfume Deals & Coupons.
Perfume Booth Coupons & Discount Vouchers Codes at CouponZeta
Savings and convenience are two of the most important benefits of online shopping. While the online stores take care of offering enhanced convenience to the customers, CouponZeta focuses on the savings. Our website is home to all the latest PerfumeBooth coupons and discount codes which you can use while shopping at the PerfumeBooth website. All the PerfumeBooth codes and PerfumeBooth offers have a detailed description with the help of which you can select the right coupon code for your purchase.
We regularly add new Perfume Booth discount codes and coupons to help you shop for the best of fragrances at the PerfumeBooth at the best of prices. The codes that expire are instantly removed to make sure that you only get to select from the best of genuine and 100% working codes.
Save Money With Latest Perfume Booth Coupon Codes, Promo Codes
| Perfume Booth Offer | Discount |
| --- | --- |
| All Perfume Products | Flat Rs 80 OFF |
| 100ml Perfume Bottles | Save Rs 250 |
| Perfume Selfie Box | Get Rs 76 Discount |
| 7 International Perfume Brands | Buy @ Rs 399 |
| Teaze Women Perfume Selfie Box | Purchase at Rs 475 |
How To Use PerfumeBooth Coupon Code :
Step1: Visit Perfumebooth page in CouponZeta.in and click on 'Show Coupon'. Copy the code and go to the Perfumebooth store.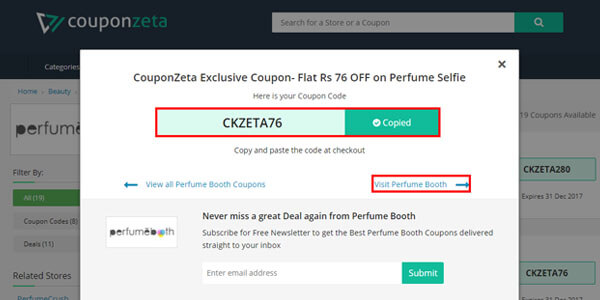 Step2: Now select your favorite Perfume Selfie Box.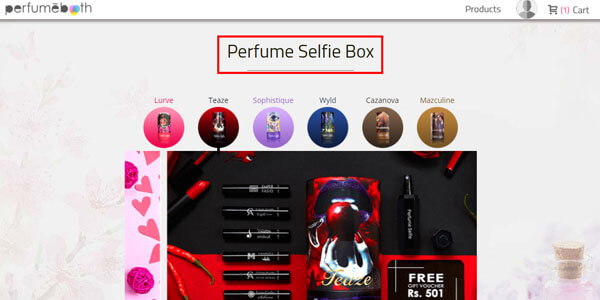 Step3: Click on the button 'ADD TO CART ' to buy Perfume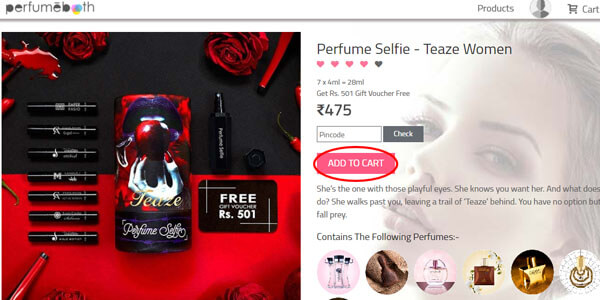 Step4: Now enter the Perfumebooth coupon code "CKZETA76" to get flat Rs 76 off on your perfume selfie box.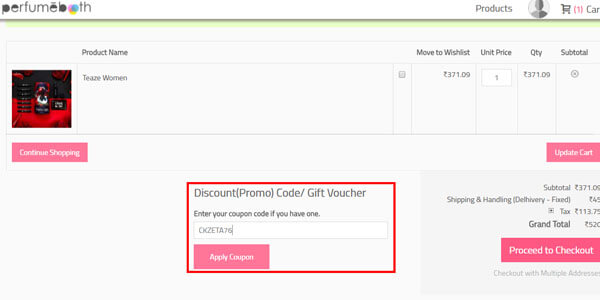 Step5: Perfumebooth coupon code is successfully applied. Now click on the continue payment and choose your payment method.